Events
Minuteman Scholarships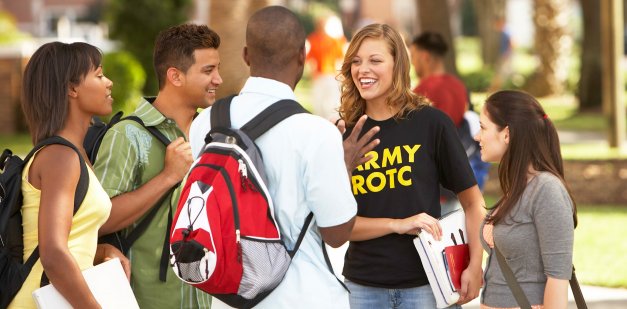 The 2018 window for Army Reserve Minuteman Scholarships is now open. The deadline for applying for these scholarships is August 17, 2018.
Minuteman Scholarship Opportunities
If you are interested in receiving an Army Reserve Officer Training Corps (ROTC) scholarship and commissioning into the Army Reserve, the Minuteman Scholarship provides you an excellent opportunity.
Minuteman Scholarships cover 4 years of full tuition and fees or $10,000 for room and board at colleges and universities served by an Army ROTC program.
Scholarship recipients also receive a monthly stipend of $300 to $500, and a yearly book allowance of $1,200. In addition, Minuteman Scholarship recipients participate in the Simultaneous Membership Program, which gives them experience with an Army Reserve unit while earning additional money for their service.
To get started, high school seniors should contact the Professor of Military Science or Recruiting Operations Officer at the Army ROTC program that serves their college or university. There are 275 host programs that cover nearly 3,000 schools across the United States. To find a program that serves your college or university, go to goarmy.com/rotc. For questions concerning the Minuteman Scholarship, email the Minuteman Scholarship manager or call (502)624-7695.
The 2018window for Army Reserve Minuteman Scholarships is now open. The deadline for applying for these scholarships is August 17, 2018.
QUALIFICATIONS
•Be a US citizen
•Have a valid MEPS physical
•Currently in the USAR
•Complete SF86 to obtain secret security clearance
•Pass a valid APFT
•Be in compliance with AR 600-9 HT/WT standards
•Pass MSC CDR interview process (if applicable)
•Pass PMS interview process (PMS should be involved early in the process to avoid problems)
•Proof of acceptance into participating University of attendance
•Proof of academic major
•Proof of SAT/ACT scores (min. 920 SAT or 19 ACT)
•Must have an approved academic major and be a current drilling USAR member.
•They must, at a minimum, be accepted into a participating institution.
•USAR members currently in their first or second year of college are also eligible for consideration, based on the determination of each MSC CDR.
•Be able to commission before reaching the age of 31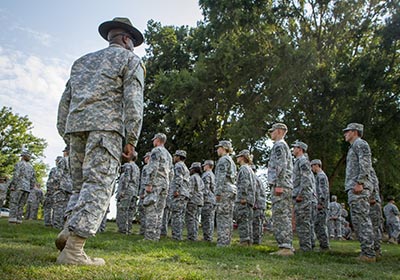 2018 Best Warrior Competition
Seven U.S. Army Reserve commands tested their Soldiers in a Best Warrior Competition at Fort Knox, Kentucky, April 9-13. The five-day, 10-event competition assessed more than 40 Citizen-Soldiers from across the United States to select each command's Soldier and Noncommissioned Officer of the Year. Each champion will compete in theU.S. Army Reserve Best Warrior Competitionat Fort Bragg, North Carolina in June.
Traditionally, the Fort Knox Army Reserve commands (84th Training Command,Army Reserve Aviation Command, andArmy Reserve Careers Division) hold their Best Warrior Competitions together. However, this year they coordinated with four other commands (108th Training Command [Initial Entry Training],88th Readiness Division,81st Readiness Division, and theMilitary Intelligence Readiness Command) to pool resources, be more efficient, and offer a better competition. "We made an even better improvement on training opportunities than we had in the past," saidCommand Sgt. Maj. JamesPeter Matthews, the command sergeant major for the Army Reserve Aviation Command.
With the skills sets and manpower of the various commands behind one competition, it just seemed like a combat multiplier. "As a joint effort, everybody has to contribute a few as opposed to a few contributing a lot. The combined effort not only allowed for a smoother and a more cost-effective competition, but it enhanced the Soldiers drive to succeed since there was stiffer competition," said Army ReserveCommand Sgt. Maj. Lawrence Arnold, 84th Command Sergeant Major. "The Soldiers tend to excel more when they are in larger groups."
Competing against Soldiers from other commands certainly added an element of surprise. As the different Soldiers had never met, they had to push themselves a little harder against the unknown competitors. "I think [the combined competition] made it really interesting, and I really enjoyed meeting the other competitors," said Army Reserve Staff Sgt. Jonathan Roy, a drill sergeant with 3rd Brigade,98th training Division (IET). Roy, who was competing in the 108th Training Command's Drill Sergeant of the Year Competition that was being held simultaneously with the Best Warrior Competition, said that competitions like this are a great path to self-improvement. "I think it's important for NCOs to continuously challenge themselves, and that was the point of this competition."
Along with the competitors not knowing each other, the events and scheduling were kept in suspense throughout the week, and those unknown factors created an environment of stress and discomfort, said many of the Citizen-Soldiers. This anxiety is exactly why Roy, who won the 98th Training Division Drill Sergeant of the Year title, decided to compete. "I wanted to put myself in a situation that was going to be uncomfortable so I would have to push myself."
And that is what the Soldiers did over the five days as they moved from event to event, testing their mental and physical stamina. Competitors said some days were harder than others, and events like land navigation or the military board, which was conducted in front of stern-faced command sergeants major, posed the most mental angst for them. But, there was no debate which day was the most physically taxing. All the competitors agreed, Day 3 was a beast.
Day 3 started at 3:30 a.m. with a 12-mile road march that included their rifle and 35-pound ruck. After a quick clean up and chow, the tired Soldiers moved directly into a series of round-robin ranges that included land navigation, urban assault lanes, an obstacle course, drill and ceremony tasks and both 9mm and M16/M4 ranges. Rotating from range to range in separate groups gave the competitors little time to waste and it tested their desire to not only continue, but to excel.
As an Army Reserve drill sergeant who transforms civilians into Soldiers, Roy said he felt like it was his duty to push himself at every event, which refreshed his reason for serving. "Remembering what you stand for and what you are here for is really important."
That test of drive and ability all wrapped up with the camaraderie and spirit of competition is just what makes Best Warrior Competitions so great, saidCommand Sgt. Maj. Michael J. Robinson, the command sergeant major for the Military Intelligence Readiness Command. "I love Best Warrior Competitions…the chance to see my peers and their Soldiers getting after it…it's one of the best things the Army has ever created [in my opinion]."
Regardless of who won the coveted titles for each command—Soldier of the Year, NCO of the Year and Drill Sergeant of the Year—the competition served another purpose. And that was a way to pay that training forward, saidMaj. Gen. Mark McQueen, commanding general for the 108th Training Command (IET). "Now, you have the opportunity to go back to your formations and challenge your Soldiers, and that is what I am asking you to do."
McQueen didn't just ask the Citizen-Soldiers to regurgitate their training experience at Fort Knox, but rather to embrace it and improve upon it regularly throughout their careers, always striving to be excellent and develop quality Soldiers. "Just like this competition here this week, I'm asking you to finish—cross that finish line, wherever that's going to be in your career—sprinting."
That constant drive to improve is not just something for the competitors though. It should be a goal for all the support staff too, said Arnold. The 84th Command Sergeant Major said his team was looking to add more commands into the fold next year, and doesn't plan on resting on their successes. "We want to make next year's competition even better than this year's. And in my humble opinion, this year's competition was the best that we have had yet."
-----U.S. Army Reserve Command BWC and DSoY Winners----
84th Training Command
Soldier of the Year: Private 1st Class Ladarius Smith
NCO of the Year: Sgt. Chase Craig
Army Reserve Aviation Command
Soldier of the Year: Spc. Dawson Birchall
NCO of the Year: Sgt. Ricky Elmore
Army Reserve Careers Division
NCO of the Year: Sgt. 1st Class Chris Bogard
88th Readiness Division
Soldier of the Year: Spc. Cole Nelson
NCO of the Year: Sgt. Benjamin Moran
81st Readiness Division
Soldier of the Year: Spc. Christopher Abell
Military Intelligence Readiness Command
Soldier of the Year: Spc. Joshua Schwartz
NCO of the Year: Sgt. Donald Smith
108th Training Command (IET)
Soldier of the Year: Spc. Darren Odell
NCO of the Year: Staff Sgt. Derek Hopkins
Drill Sergeant of the Year: Staff Sgt. Shane Price
95th Training Division (IET)
Soldier of the Year: Private 1st Class Cody Campbell
NCO of the Year: Staff Sgt. Lucas Thomas
Drill Sergeant of the Year: Staff Sgt. Shane Price
98th Training Division (IET)
Soldier of the Year: Spc. Timothy Wadsworth
NCO of the Year: Staff Sgt. Derek Hopkins
Drill Sergeant of the Year: Staff Sgt. Jonathan Roy
104th Training Division
Soldier of the Year: Spc. Darren Odell
NCO of the Year: Staff Sgt. William Benson
Overall Combined Best Warrior of the 7 Commands: Sgt. Chase Craig, 84th Training Command